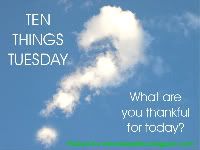 O'righty... It has been a couple of weeks since I have participated in
Ten Things Tuesday
and in honor of this thankful month, I thought I'd take a few seconds to jot down some things I am thankful for today...
...My gorgeous friend Rebecca who made me laugh during...

a 5 hour shopping trip sans kids!

...My wonderful hubby who doesn't bat an eyelash when I leave him to run the house (and fold 3 loads of laundry!!!) while I have fun with a friend.

...that God knows all my needs and provides in perfect time.

...TWO adorable little girls who allow me to "do girl hair"!

...a 4 year old with the most adorable little face who is completely obsessed with how old people are!

...a 6 year old who says, "I adore you mom!" a couple of times a day.

...for the new friends we are meeting in our couples bible study.

...for my wonderful mother-in-law! Thank you for the love and hard work you poured into your son to produce the amazing man that he is today! I'm sorry we missed your birthday...we love you so much!!
To see what others are giving thanks for today, head on over to xbox wife.