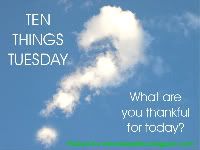 Brisk Fall mornings!
Second chances, Third chances, Okay most of the time fourth chances...AND the One who gives them!
Date nights!!
People who inspire me with their amazing stories.
Clean vehicles...
and the healthy, little people that make them so messy!
Soccer season. And good friends on the team.
Exercise. Okay, maybe not exercise but the way I feel when it's over!
The 2 1/2 hours of complete silence that happens in my house everyday...
and the sound of complete chaos when all my babies have returned home to me!
Thanks to our great hostess Mrs. Brownstone for giving us weekly opportunities to be mindful of all that we have to be thanful for!