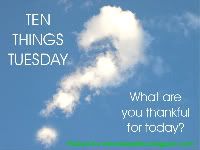 So, I meant to participate int Ten Things Tuesday yesterday, but life got in the way. Not just any life, but this amazing, blessed, fabulous life that I have the pleasure of living! With that said, better late than never...
I am thankful for a husband that ran with me (even though I am way slower than he is he still was so sweet and complimentary!) yesterday and encouraged me during the terrible hills!

I am thankful for my siblings being here and all of the many hours of free childcare that they really love playing with my kids.

I am thankful for the fun memories that the kids are getting to build with their aunts and uncle.

I am thankful that my parents house is still standing and that they have such a good attitude despite their not-so-great circumstances.

I am thankful that The Love's schedule has been so amazing for the past month and will be for many to come!

I am thankful for my friend 2 amazing friends (one in Minnesota and one in North Carolina) and how much they love me and let me call them when I am in crisis and talk all about myself.

I am thankful for cooler weather where I can leave my windows open and enjoy fresh air.

I am thankful that I have stayed relatively injury free despite my many hours at the gym.

I am thankful for all the scrapbooking that I have been able to get done in the evenings and all the memories that we have been able to capture, by photograph, over the years.

And last, but definitely not least, I am so thankful for my Love and the four little Darlings that we call ours!
To see what others are giving thanks for head on over to Mrs. Brownstone's place!